Curriculum
What do our children want to do when they are older?
Here is a word cloud of their ambitions, taken as a snapshot from 2 classes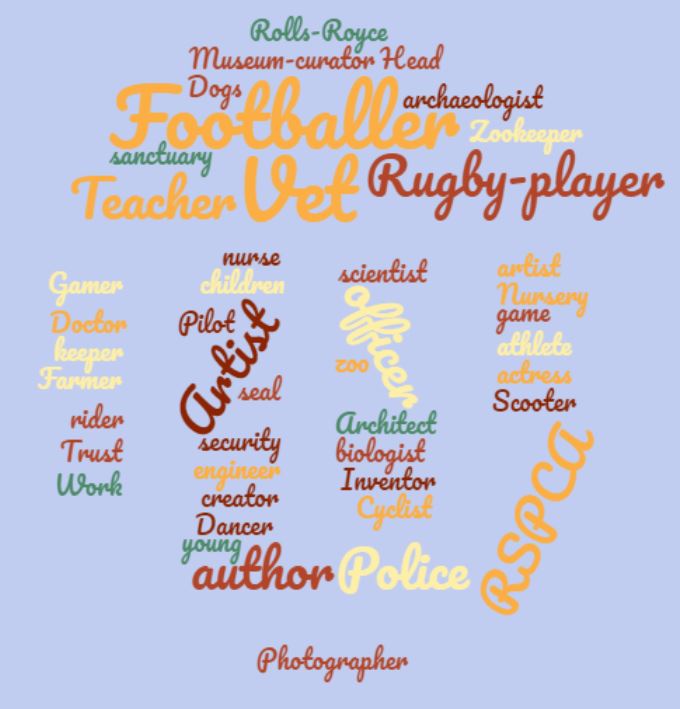 How will we help them?
Whatever choices our children make as they grow up, we want them to have a set of skills and tools that enable them to have a wide range of ways in which they can contribute to society. We have thought hard about what it is our children will need, and we are at an exciting time when it comes to further development of our topics and the ways that we teach them.
Our Pensford curriculum, which has been very largely based on the National Curriculum 2014 for some time, has an excellent track record of delivering good outcomes for pupils in English and Maths. However, we are now taking our curriculum much further, developing strands and themes across all subjects that link children's broader learning together. This will help our children to memorise key facts and develop important skills.
The Four Pillars of the Pensford Curriculum
We have founded our revised curriculum on Four Pillars. These are the themes that the teaching staff have decided are the most important for our children. They run through our teaching like a thread that gives a firm basis for our planning and a clear answer to the question, "Why are we teaching this?"
Please click the writing below to find out more about our philosophy and the basis for our curriculum:
Outdoor learning is central to our beautiful rural setting
Our PE curriculum firmly supports our first pillar of wellbeing, supporting both physical and mental health. We also take regular opportunities to learn outdoors in the different spaces we have around our grounds. We also go beyond the school through local walks, visits to the memorial playing fields, and curriculum-driven visits to Hidden Valley Bushcraft. Our very supportive PTA have recently refurbished our outdoor classroom, which is a great space in which children can play as well as have their lessons.
You can read more about our curriculum for English, Maths and the Wider Curriculum by clicking the links.